A new giant community picnic table was officially opened this week at Lily Hill Park, and it is bigger and better than before.
The new table and bench are made from the timber of a chestnut tree from the park, which was felled for safety reasons. The timber has been expertly crafted by local wood carving specialist, 3D Wood, to maintain the curved lines and branching shapes of the tree, retaining its natural character.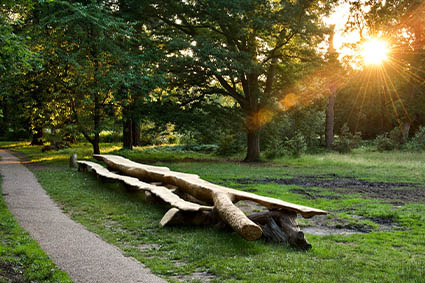 The replacement was commissioned by the council's Heritage Parks team, as the original table had declined in condition since it was installed in 2010 and could no longer be repaired.
The new table measures a whopping 19.8 metres (65 feet). This makes it 1.4 metres longer than the original, which was considered as the longest picnic table in England carved from a single piece of wood. The council is planning to register the new table length with the Guinness World Records in due course.
Cllr Harrison, Executive Member for Culture, Delivery and Public Protection, said:
"Thank you to everyone who has worked on this fabulous creative project.

"It is great to see this much-loved feature of the park given a new lease of life, and the finished product looks amazing.

"The picnic table is a big improvement on the original, not just because it is longer and in tip top condition, but because it can now be accessed by wheelchair users.

"We hope that it helps to maintain Lily Hill Park's reputation as one of the best picnic spots in the country, and that residents will continue to enjoy this community facility."