What happens to the information you give us
If you are unsuccessful in your application, all data contained in your application form will be destroyed within a reasonable timeframe.
The council is under a duty to protect the public funds it administers, and to this end may use the information you have provided on this form for the prevention and detection of fraud. It may also share this information with other bodies responsible for auditing or administering public funds for these purposes.
Our commitment to those with a disability
We are signed up and committed to the Disability Confident scheme. We make sure that we will not treat a disabled person any less favourably because of their disability and will offer an interview to anyone with a disability who meets the essential criteria on the person specification. We are committed to making sure that disabled people and those with long term health conditions have the opportunities to fulfil their potential and realise their aspirations.
If you are successful with your application, we will do our best to look at what reasonable changes or adjustments we can make to our working practices and workplace to overcome any effects of your disability.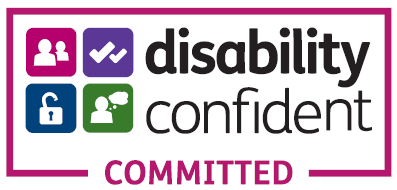 Guidance on the recruitment of ex-offenders
As an organisation using the Disclosure and Barring Service (DBS) to assess applicants' suitability for positions of trust, we comply fully with the DBS Code of Practice and undertake to treat all applicants for positions fairly. It undertakes not to discriminate unfairly against any subject of a DBS Certificate on the basis of conviction or other information revealed.
Find more information on the recruitment of ex-offenders.
Applications to work with children, young people or adults at risk
A number of our jobs involve contact with children, young people or adults at risk. Other jobs involve access to data regarding children, young people or adults at risk. We include extra measures in our recruitment process which safeguards their interests.
Find out more about applications to work with those at risk.
Leaving the armed services
Advice and assistance in job seeking for people leaving the armed services can be found on the Careers Transition Partnership website.