No vacancies
Thank you for your interest but there are currently no vacancies.
Your local library does many things and libraries benefit greatly from volunteer support. We value our volunteers for the additional services they help us to provide.
What you get
You will meet new people, gain experience and share your skills as well as learn new ones. You will make a difference in your community, because libraries make a big impact on everyone's lives.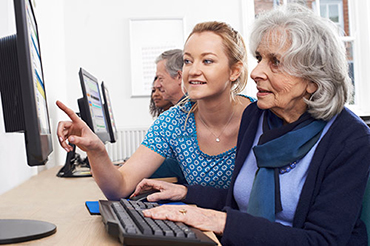 You will get training, and support from staff in the library service. You will have opportunities to influence your local library.
You can also enhance your skills for a job, college or university application.
What we get
We will get your experience, skills, knowledge, commitment and enthusiasm.
Your appearance, communication skills and interest in helping people are important to us.
The support you provide will enable us to increase activities in the library. This will encourage more visitors to use the service.
Variety of roles
There are many voluntary roles in our libraries across different groups and activities. Most roles are available in each branch although opportunities in smaller libraries may be limited.
Most volunteers help with several activities while others choose to take on a specific role.
Descriptions of available roles are listed below:
How to apply
Please fill in our online form to tell us you are interested in volunteering with the library.
Express an interest in volunteering
After you apply
We will review your interest, availability and location. We will send you our application form, or suggest other volunteering opportunities for you.
Once we have received your fully-completed application form, we will set up an informal interview with you, which may take several weeks to arrange.
For successful applicants, references will be requested after interview. For most roles, we will request an Enhanced Disclosure and Barring Service check.
We will ask you to sign a volunteering agreement and give you our volunteer handbook.
We will provide induction training and library staff will also help with your ongoing training and support.
I have questions
You can:
phone: 01344 423149 and ask to speak with the volunteer coordinator
drop in to your local library and ask at the desk