Put your bin out the night before
Make sure your food caddy is out by 6am on your collection day.
We suggest putting it out the night before.
Food waste is collected every week
In Bracknell Forest food waste is collected every week.
Use our collection day finder to find what day your collection is.
What goes in your caddy
You can put all food waste without packaging in your caddy.
What can and cannot go in your food waste bin

| 0 | Yes | No |
| --- | --- | --- |
| 1 | raw and cooked meat and fish (including bones) | packaging |
| 2 | cheese, eggs, eggshells and yoghurts | cutlery |
| 3 | cooked and uncooked vegetables, fruits and peelings | disposable plates and cups - even if labelled as biodegradable |
| 4 | bread, cakes and pastries | garden waste |
| 5 | tea bags and coffee grounds | pet waste |
| 6 | dry and wet pet food | anything that is not food |
| 7 | cooking oil - pour into a sealed plastic bottle and place in your outdoor food caddy | liquids such as milk (cooking oil is allowed in a plastic bottle) |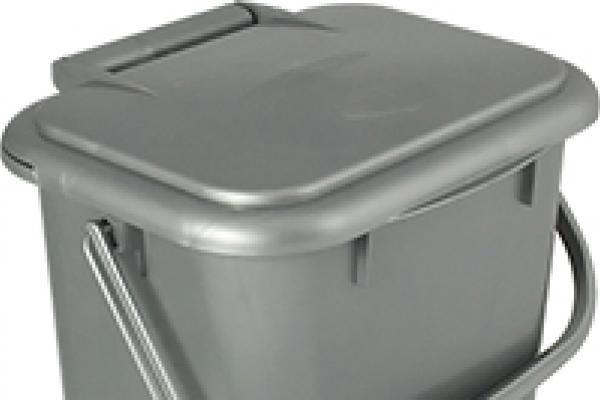 Keep your small caddy inside and put your food waste in it.
If you have small children or pets, it might be useful to keep it in the locked position.
When your indoor caddy is full, empty it into your larger outdoor caddy.
Make sure this one is always in the locked position.
Caddy liners
You can line your indoor food caddies with the roll of liners. When these run out you can use bags left over from other food such as bread bags. There is no need to buy compostable bags as all bags will be removed before the food waste is processed and sent to a different waste plant for energy recovery.
You can choose not to line the caddy at all, just remember to regularly wash both caddies.
Where to put your caddy for collection
Kerbside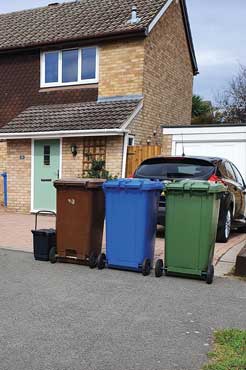 If you put your other bins on the kerbside, put your food caddy in the same place.
Private roads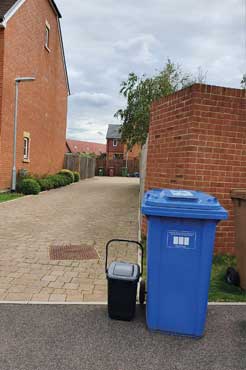 If you live on a private road, put your food caddy in the same place as you put your other bins.
Collection point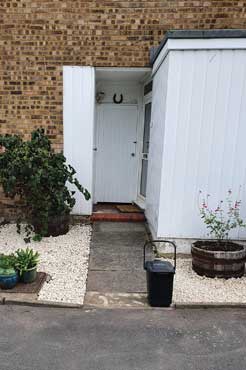 If you have a communal collection point and you do not live on a private road, leave the caddy at the edge of your property boundary.
Report an issue
To report an issue, such as a missed collection, a broken caddy, or a missing caddy, visit our bin issues page.
Flats
We are looking into introducing food waste collections in up to 20% of the borough's flats.
Each block of flats will be assessed before this is introduced to make sure a communal food waste bin can be accommodated. We will also need agreement from the management agent that they will take responsibility for cleaning the communal food waste bin.
Benefits of food waste collections
There is an international climate change crisis and we are committed to taking steps to tackle this across our services. This includes encouraging and enabling more recycling.
We already recycle 43% of all waste but we know with food waste collection that could go up to around 50% in 2021 and 65% by 2030.
Putting rubbish into landfill not only wastes money, it also contributes to air pollution and to the long-term effects of climate change. We currently landfill 7,800 tonnes a year. Through food waste recycling we aim to reduce that by 50%.