Our vision
Providing social work from the secure base model. Promoting resilience and competence in child and family social workers that creates the right environment for good social work to flourish. Social workers can focus on improving outcomes for children, their parents and their families in a cost effective and sustainable way.
Secure base model
We recognise that the workforce is our greatest asset, fundamental to delivering quality services and improved outcomes for our children and families.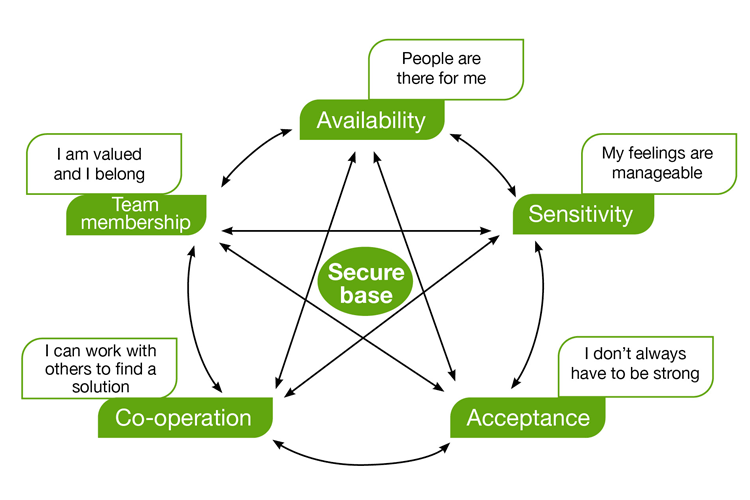 The diagram above shows the secure base model which supports our vision.
The centre is our secure base which includes:
availability - people are there for me
sensitivity - my feelings are manageable
acceptance - I don't always have to be strong
co-operation - I can work with others to find a solution
team membership - I am valued and I belong
Outcomes
Our outcomes are that:
children are free from serious harm and have their basic needs met including that of education
the right to family life is paramount in our decision making
children have a say in decisions about them and their lives
support is provided to families to meet the needs of children with disabilities
In protecting the rights of children, parents and carers there must be:
proportionality – the right help at the right time, for the right children
respect and humanity – this is especially important when you are delivering a service that has a statutory duty but also has non voluntary involvement of children or their families
quality assurance – we must have an effective complaints and quality assurance process
fair access – access and eligibility must be applied fairly and not disadvantage anyone
Team priorities
As a member of the children's workforce you are asked to focus on the following key areas in all that you do - we call these our ASPIRE priorities:
Always respect timeliness
Smart impactive planning
Purposeful visits to families
Impactful, collaborative assessments
Reflective supervision
Engaging with children – ask yourself "what is life like for this child?"
In return we will provide you with
a supportive and approachable leadership team
good peer support
high quality and regular supervision
Ofsted
In the most recent inspection of services for children in need of help and protection, children looked after and care leavers we were assessed as 'Good' by Ofsted with 'Outstanding' features.
"Children in Bracknell Forest benefit from highly aspirational, committed senior managers and political leaders who place them firmly at the centre of their decision making. As a result, almost every child who accesses a service receives good or outstanding support."
We have a nationally recognised practice model – the Family Safeguarding Model. In July 2021 we had a Focused Inspection Ofsted.
"Implementation of the chosen social work model provides a collegiate, holistic and dynamic practice environment, allowing social workers to make quick inroads into addressing long-standing parental issues which impact on the experiences and progress of children.

"They have continued to ensure the delivery of high-quality social work practice that has a positive impact on children's experiences"

"The importance of a stable, well trained and dedicated workforce is well understood by leaders in Bracknell Forest. A focus on strategies to achieve this has resulted in an increasingly stable and experienced workforce."
"Rigorous planning, access to good quality training and a strong focus on innovation have led to an exceptionally stable workforce of proficient, experienced social workers that enables good social work practice."
"The majority of social workers have manageable caseloads, and this makes sure that they have time to spend with children."
"Social workers and family support workers provide highly effective support to children in need of help and protection. Confident and skilled practitioners develop meaningful relationships with children."
"Senior managers are connected to frontline practice and have a good knowledge of individual children. They provide consistent leadership, and are visible and accessible."
Roles
The roles we have available are challenging and interesting and will enable you to continually develop your skills and knowledge, as well as contribute to the ongoing improvement of the services and support we deliver.
We asked the members of SiLSiP (Bracknell's Children in Care Council) what they look for in a social worker. Take a look at what we would like our social workers to be like in the document below.
If you believe you have the ambition to join us at this exciting time we would welcome your application to join one of our teams.