Cabbage Hill is a 13.83 hectare (34.1 acre) green space in the north of Bracknell.
It lies west of Newell Green within the parish of Binfield with access off Forest Road (B3034).
The site was previously arable fields, horse grazed meadows and rough grassland.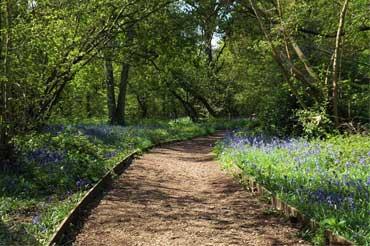 It is now developed and managed as wildflower meadows with hedged field boundaries. The southern section of the site includes part of Long Copse Local Wildlife Site.
Facilities
Cabbage Hill has the following facilities:
car parking to the north of the site
surfaced 2.3km walking route through much of the site
several notice boards with maps and other information about Cabbage Hill
benches around the site provide rest and wonderful views over the site and wider Bracknell landscape
How to get to Cabbage Hill
By car
Located in Binfield, the car park is accessible off Forest Road (B3034), between Binfield Road and West End Lane at SU 86027 71308, or (closest) postcode RG42 5RR.
By foot
You can access Cabbage Hill from the south walking along Harvest Ride or take the footpaths through the residential area north of Garth meadow.
what3words
A what3words address refers to a 3 metre square location. Select the link or enter the 3 words into the free what3words app to find it:
Park management
Cabbage Hill's various habitats are managed for the benefit of the wildlife and the enjoyment and accessibility of visitors.
The wildflower meadows are cut for hay where the removal of each year's growth reduces the nutrient content of the soil and increases the diversity of the grassland. This cutting also provides suitable habitat for skylarks, ground nesting birds that prefer large expanses of short and tussocky grassland.
Boundaries, areas which are not cut, are maintained around the edges of the meadows, scrub and woodland areas. This provides rough grassland as cover for wildlife and retention of seed heads for bird species such as goldfinches and linnet.
Pathways are maintained to provide year-round access across the site along with provision of benches and noticeboards.
Coppicing (a common practice of woodlands) takes place within Long Copse to maintain a suitable variation in the age structure of the tree species as well as increasing light levels to benefit ground flora (such as Bluebells).
Wildlife
Long Copse contains an excellent mix of native tree species along with examples of the rare wild service tree. There is also a notable badger sett within the wider woodland area with the surrounding meadows providing suitable foraging areas for these nocturnal animals.
The woodland also provides habitat for many woodland birds such as nuthatch and tawny owls and roosting opportunities for bats. Skylarks are present within the meadows and their pleasant song can be heard regularly over the site from early spring to early summer.