Frost Folly is a 12.57 hectare site in Moss End, Warfield.
The previous arable fields have been developed into wildlife meadows, hedgerow, scrubland and several small ponds providing a suitable habitat for declining farmland bird species.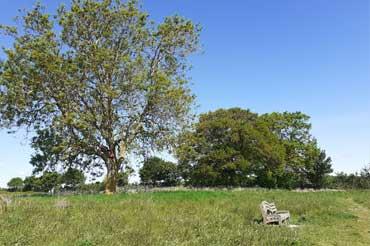 The site is a pleasant and peaceful place to walk following the twisting pathways with delightful views over the surrounding countryside.
In mid-summer the meadows are awash with colour as the white of the oxeye daisy gives way to the purple knapweed and thistles along with the many butterflies flitting from one flower to the next in search of nectar.
Facilities
Frost Folly has the following facilities:
car parking is provided off Wellers Lane with a vehicle height restriction of 1.98m (car park is closed overnight)
an unsurfaced 2.3 km walking route is provided pleasantly twisting it's way through the meadows
there are 2 noticeboards at either end of the site showing maps and other information
benches are strategically placed around the site as well as several picnic benches around the car parking area
How to get there
By car
From the Maidenhead Road (A3095) the car park is signposted turning up Bowyers Lane to the top of the road turning right onto Wellers Lane at SU 87303 72602 or (closest) postcode RG42 6EN.
By foot
From Bracknell walk north from Newell Green along Osbourne Lane, take the public footpath on the right and continue along Church Lane towards Warfield church. Turn northwards along the public footpath next to the small cemetery and follow the public footpath along the side of the site up to the car park.
what3words
A what3words address refers to a 3 metre square location. Select the link or enter the 3 words into the free what3words app to find it:
Park management
The wildflower meadows are cut for hay where the removal of each year's growth reduces the nutrient content of the soil and increases the diversity of the grassland. This cutting also provides suitable habitat for skylarks, ground nesting birds that prefer large expanses of short and tussocky grassland.
Boundaries, areas of no cut, are maintained around the edges of the meadows providing rough grassland as cover for wildlife and retention of seed heads for bird species such as goldfinches and linnet.
The series of natural pathways throughout the site are regularly maintained and mowed to provide suitable access all year round.
Wildlife
A fantastic site for wildlife where skylarks breed in amongst the grassland, linnet and other finches feed from the wildflower seed, blackcap, whitethroat and the rarer lesser whitethroat visit the hedgerows. Swallows and red kite soar in the skies above and if you're lucky you may catch a glimpse of a barn owl hunting small mammals at dusk.
The improved wildflower meadows attract many species of butterfly including marbled white, small heath, gatekeeper and painted lady.