Situated in the parish of Winkfield in the neighbourhood of Crown Wood, Savernake Park is a 6.5 hectare (16.1 acre) open space of public value.
It consists of a balancing pond, a play area and surrounding mixed woodland.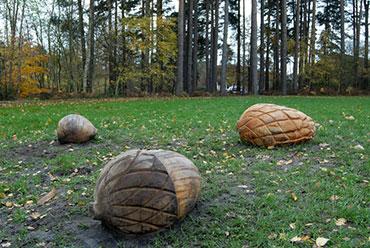 Savernake Park takes its name from Savernake Forest in Wiltshire, renowned for its stately, mile-long avenue of beech trees.
It is likely that the site used to be part of the Great Windsor Forest, a vast expanse of royal hunting forest going back to the times of the Doomsday Book.
Facilities
Some facilities and features of Savernake Park are:
a site car park
surfaced paths and gentle slopes enabling wheelchair access
surfaced paths and a shared footpath/cycleway linking it with Allsmoor Lane and beyond
seats placed at intervals on the banks of the pond
a popular play area available for toddlers and seniors
a large grassed area for picnicking and ball games
the woodland east of the site is designated a Local Wildlife Site
a balancing pond owned and managed by Thames Water, which excess water during times of heavy rainfall
interpretive sculptures of a deer, mushrooms and seeds located throughout the site
How to get to Savernake Park
By car
The car park is at the junction of Savernake Way and Mendip Road. The post code is RG12 0UX.
By foot or bike
Access by foot or cycle can also be gained at various locations throughout the site including pedestrian and cyclist access from Hythe Close, The Warren and New Forest Ride.
The site connects well with the cycle network around the eastern side of Bracknell.
what3words
A what3words address refers to a 3 metre square location. Select the link or enter the 3 words into the free what3words app to find it:
Park management
In the 1990s Savernake Park was adopted by Bracknell Forest Council who now manage the site for recreation and wildlife.
In October 2020, we started a project to improve the site. Some of the improvements we have carried out to date are listed below.
Work completed and it's benefits

| Work completed | Benefits |
| --- | --- |
| Cleaning silt traps | Increases the pond's capacity and effectiveness in controlling water and improve water quality. |
| New natural coir planting around the pond margins | Helps to stabilise the pond mud banks and prevent further erosion. |
| Newly planted heathland areas | Provides a more pleasant environment and a new habitat for species including insects, reptiles and birds. |
| Woodland enhancement works | Provides a more pleasant environment and an improved home for woodland wildlife such as, bullfinches, stag beetles and bats. |
Plant species added
2000 bulbs
125 ferns
20 honey suckle
10 field rose
140 heather plants and seed
132 trees
2000 wild flower plug plant
2 patches of wildflower seed, one general purpose and one woodland
Wildlife
Wildlife such as noctule bats and fungi can be found in the woodland east of the site, which is designated a Local Wildlife Site.
The balancing pond contains a good stock of fish and is home to an assortment of waterfowl including ducks, geese and moorhens.