Wykery Copse is a 3.15 hectare ancient semi-natural woodland which contains a mixture of woodland types including wet ash-maple, valley and base-rich alder, and oak with birch and hazel.
The Copse, which, is located on the western outskirts of Bracknell and is connected to 2 surrounding play areas, was designated as a Site of Special Scientific Interest (SSSI) in 1984 for its important wildlife value.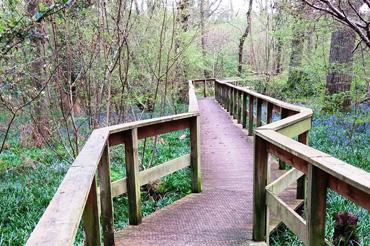 Facilities
Wykery Copse has:
an ancient woodland that's designated a Site of Special Scientific Interest (SSSI) and a Local Wildlife Site (LWS) for its wildlife value
2 associated play areas at Browning Copse and Bayden Square
good access to the site through a timber woodland boardwalk with handrails
4 wooden sculptures at the entrances
How to get to Wykery Copse
By foot
A public footpath is located to the east of the site leading to a footbridge across the A329.
The boardwalk allows for permissive access through the woodland.
There are further public rights of way at nearby Peacock Meadows, which provide links through Peacock Lane.
By car
The copse has on street parking nearby only.
what3words
A what3words address refers to a 3 metre square location. Select the link or enter the 3 words into the free what3words app to find it:
Park management
Wykery Copse is a fragment of ancient broadleaved woodland of a kind now drastically reduced in Berkshire. It contains a diverse mix of woodland habitat and species for its size and is further enhanced by the small stream which flows through it.
The woodland is managed to preserve its important wildlife value by Bracknell Forest Parks and Countryside Rangers and volunteers. Key aspects include retaining standing dead wood where possible, limiting public access to the woodland floor to reduce trampling of flora, small scale hazel coppicing and bracken cutting.
Community involvement
Local residents have offered their time to help litter pick and plant trees. More information about getting involved can be found on our conservation page.
Wildlife
Wykery Copse has:
a thriving colony of rare wild service trees which are a Bracknell Forest BAP species
other rare, local species such as purple orchid, yellow archangel, yellow pimpernel and figwort
ancient woodland ground flora including bluebells, wood anemones, wood sorrel and primrose
woodland understorey - blackthorn, hawthorn, honeysuckle, wild red currant, rose and dogwood
If you're lucky you might spot greater and lesser spotted woodpeckers and roe deer.