Put your bin out the night before
Make sure your bin is out by 6am on your collection day.
We suggest putting it out the night before.
In Bracknell Forest, brown bins are for garden waste. You must subscribe and pay for this service.
Garden waste bins and garden waste sacks are collected every 2 weeks.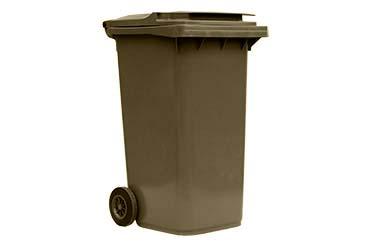 What goes in your brown bin
What you can and cannot put in your garden waste bin

| 0 | Yes | No |
| --- | --- | --- |
| 1 | grass cuttings | animal waste |
| 2 | hedge trimmings | branches over 7.5cm (3 inches) wide or over 1.2m (4ft) long |
| 3 | tree trimmings | bricks and rubble |
| 4 | leaves | flower pots or plant trays |
| 5 | small branches | food waste including fruit and vegetables or peelings (including windfall fruit). This can go in your food waste caddy. |
| 6 | small plants | glass or metal |
| 7 | weeds | soil, turf or stones |
| 8 | flowers | tree stumps |
| 9 | chopped up Christmas trees | any item that should be in the recycling or general waste bin |
Sign up for garden waste collections
Buying a bin
To sign up for garden waste collections, you first need to buy a brown bin.
New brown bins are available in 240L and 140L sizes.
They cost £42 to buy.
Collection charge
You will then need to pay an annual collection charge. This covers 25 collections.
Your service begins once you have paid your annual fee. The renewal date will be one year from that point.
Annual collection charges for garden waste

| 0 | Type of charge | Collection charge | Discounted charge |
| --- | --- | --- | --- |
| 1 | 240L bin collection charge | £60 | £30 |
| 2 | 140L bin collection charge | £56 | £28 |
If you receive an income-related benefit, you may qualify for discounted charge.
How to order and pay
Before ordering a garden waste collection, read our garden waste terms and conditions.
You can pay online by credit or debit card.
Order and pay for a new brown bin and collection charge
Subscription renewals
You can renew your garden waste collection subscription before your renewal date. Provide an up to date email address when you make your payment to receive a renewal reminder.
You can also check your renewal date using the same form.
Renew and pay the collection charge
Renewal reminders are sent by email
Most customers using the brown bin service have access to emails and pay online.
If you do not have an email address (or that of someone else who could pass on a message to you) then you may find it helpful to make a note of when your annual subscription is due to be paid.
Update your address details
If you move house, please call us to let us know on 01344 352000.
Report an issue
To report an issue, such as a missed bin, a broken bin, or a missing bin, visit our bin issues page.