Put your bin out the night before
Please make sure your bin is out by 6am on your collection day.
We suggest putting it out the night before.
In Bracknell Forest, blue bins are for recycling.
They are collected every 2 weeks.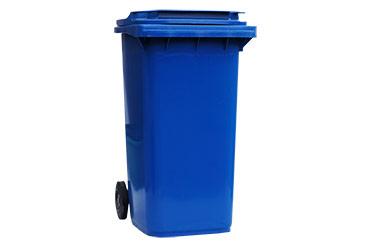 What goes in your blue bin
Please quickly 'wash and squash' recyclable plastics, foil and cartons to reduce contamination and to free up space.
We can collect dry cardboard boxes which will not fit in your blue bin, provided you have cut them to a manageable size no bigger than your bin.
What we can and cannot take in your recycling bin

| Yes, please | No, thank you |
| --- | --- |
| aerosol canisters – empty | metal jar lids |
| books | cellophane, plastic film |
| cans and tins – rinsed food, drink and pet food (labels are OK) | crisp bags |
| card – cereal boxes, corrugated card, egg boxes, kitchen and toilet roll tubes, flattened boxes | electrical, electronic equipment and batteries |
| cards – greetings cards and Christmas cards (without glitter) | foil-based wrapping paper |
| cartons (Tetrapak) – juice, milk and soup cartons | food pouches and coffee pods |
| catalogues, brochures and directories | food waste |
| foil and foil trays (rinsed) | glass |
| junk mail, flyers, letters and envelopes (including window envelopes) | metal – cutlery and pots and pans |
| newspapers and magazines | nappies |
| paper – printer paper (white and coloured) | plastic bags |
| plastic bottles (rinsed) – drinks, milk, toiletry, detergent, bleach | plastic toys |
| plastic punnets and trays – fruit punnets, meat trays | plastics which are black (other colours are fine) |
| plastic cosmetic pots or tubs | polystyrene |
| plastic pots – yoghurt, cream or soup pots | textiles – clothes, bedding, duvets |
| plastic tubs – ice cream and margarine tubs | tissues |
| shredded paper (please put in a small box, paper bag or wrap in newspaper) | toothpaste tubes |
| wrapping paper (not foil based) | paint tins |
Black plastic is not currently recycled as sorting equipment cannot detect the carbon black pigment. Please put any black plastic in your green general waste bin.
For more information about plastic recycling, visit the re3 website.
Glass
We are not able to collect glass along with other recyclable items because:
broken or ground glass makes paper and card unrecyclable

our sorting facility is not able to separate glass from other materials
Separate containers would be needed for kerbside glass collections, alongside buying additional vehicles and recruiting staff. At this time, this is not financially viable.
When the government has passed the Environment Bill there will be statutory guidance on glass collection. At this point we will assess options for glass recycling.
In the meantime please take your glass to your local bottle bank.
Report an issue
To report an issue, such as a missed bin, a broken bin, or a missing bin, please visit our bin issues page.
Additional collection
If you missed a bin collection, you may want to request an additional bin collection. There is a charge of £30 for this service.
Request an additional collection
Recycling incentive scheme
When you sign up to the recycling incentive scheme, every time we empty your bin 200 points will be added to your account.
You can spend your points on lots of different rewards including sessions at Downshire Golf Complex and Bracknell Leisure Centre.
Find out more about the recycling incentive scheme.