The Chestnuts and connecting Chestnuts Lane, are green spaces that comprise 1.7 hectares of land in Warfield Harvest Ride.
The sites are remnants from the Warfield Park estate and comprise a mixture of shrubs, grassland and veteran Sweet Chestnut trees that are thought to be approximately 200 years old.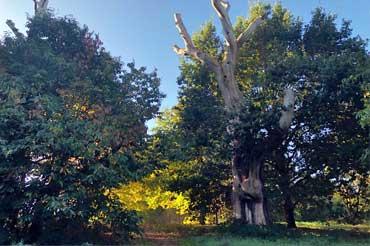 They form part of a green corridor running west to east, following the line of an old track which used to offer access to the cottage gardens. A tarmac cycleway runs along its length. This can be used by pedestrians, cycles, wheelchairs and prams as a form of access or passage to and from the Whitegrove Housing Estate, the surrounding greenspaces and Tesco.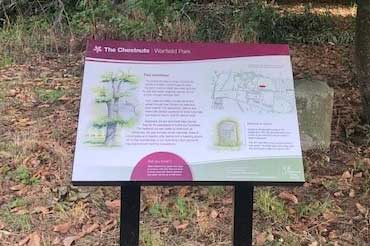 Facilities
The Chestnuts has:
a historic icehouse that's a Grade II listed building
veteran sweet chestnut trees and a historic stone plaque
information boards about site history and wildlife
shared footpaths and cycleway (The Chestnuts Trail)
How to get there
By car
The main access points are Julius Ride, Horatio Avenue and Juliet Gardens. There is no car park, but roadside parking is available
By foot or bike
Access to the site can be found at several locations:
from Edmunds Green

off Hamlet Street

off Cordelia Croft

off Portia Grove

off Horatio Avenue

off Juliet's gardens

off Julius Hill
Park management
A project is underway to enhance the visitor experience for residents.
Improvements to date include:
removal of vegetation to protect the exterior of the building
new visitor interpretation gives history about the icehouse and the nearby veteran chestnut trees
a new pathway provides residents with better access to the site
The work has been funded by local development money allocated specifically for open space improvements.
History
The old house of Warfield Park was bought by Colonel John Walsh in 1765, having made a fortune for himself in India.
Col. John Walsh (1726 to 1795) rebuilt the house in 1766 following a fire. He also made changes to the surrounding park, including new grottoes and terraces, lawns, ponds and a vineyard.
The icehouse was part of the old Warfield Park estate and was likely built in the 18th century. It is a brick building with a spherical domed roof covered in earth. It was used to store ice before the invention of refrigerators. It is now a Grade II listed building.
The once small chestnut trees line a historic route. This ran from the icehouse, which was nearby an old walled garden, to an expansive woodland. This was identified as good hunting ground by the late John Walsh (1726 - 1795), owner of Warfield Park.
Wildlife
The name, The Chestnuts, is derived from its main feature. In the open area at the top of the rise there is a line of Sweet Chestnut trees, preserved from the development for their age, beauty and conservation values.
The trees and habitats across The Chestnuts offer a range of habitats and foraging opportunities for wildlife. The giant chestnut trees have been growing for over 200 years, originally planted to line a route through Warfield Park.
Now, these old trees provide nectar and pollen through their flowers for bees and other insects. The deadwood, hollows and holes off­er perfect locations for small mammals and birds to nest, and for bats to roost.
Elsewhere, the elm and hazel trees provide food for the caterpillars of moths and butterflies.
The hazelnuts are also eaten by birds such as nuthatches, tits, jays and also small mammals. Areas of uncut grass and meadow o­ffer habitat and a breeding ground for further invertebrates, in turn providing a food source for the local bird and mammal populations.