Toddler play area open
The newly revamped play area near the terrace is open for families to enjoy.
Find out more about the toddler area upgrade.
General information
South Hill Park is an historic park located south of Bracknell town centre with excellent road and rail links to London.
The grounds are open to the public and include landscaped gardens, lakes and woodland, all of which surround a Grade II listed building which is now used as an arts centre.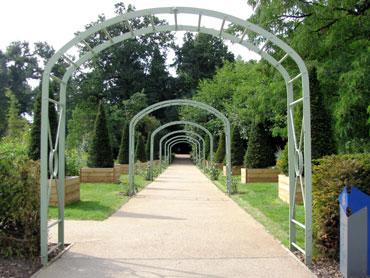 The grounds of South Hill Park have been restored back to their former glory thanks to a £2.3 million grant from the Heritage Lottery Fund and Big Lottery Fund. Take a step back in time and admire original features such as a Yew Walk and Italian Garden in your exploration of the park.
Facilities
South Hill Park has many attractive and unique features which make it a pleasant place to visit and a great filming location:
an Italian Garden restored to the original designs of architect Temple Moore
4 waymarked trails to guide your way around the historic grounds
2 balancing ponds popular for fishing and home to an array of wildlife
surfaced paths and disabled access facilities to the arts centre
an amphitheatre which is popular for outdoor performances
a small rose garden which leads onto a yew walk, with a rose strewn arcade
sculptures including the Rings of Pachamama by Lucy Strachan
toddler garden including natural play features
café at the South Hill Park Arts Centre
woodlands of birch, lime, oak and sweet chestnut
art galleries, a dance studio, cinema and theatre in the mansion
an orienteering course, which can be used by beginners and more advanced orienteers
a new educational nature trail, with wildlife themed wood carvings
To see what's on and for more information on courses and workshops at the arts centre please visit South Hill Park Arts Centre website.
How to get to South Hill Park
By car
South Hill Park is about 7 minutes drive from Bracknell town centre just off the A322 Bagshot Road.
It is easily accessible from the M3 (Junction 3) and the M4 (Junction 10). Look for the brown road signs saying 'Arts Centre' or showing a comedy mask.
Free parking is available at South Hill Park for up to 200 cars. Time limited parking is available at Birch Hill Neighbourhood Centre.
Postcode for Sat Nav users is RG12 7PA.
By bike
Three adopted cycle routes run through South Hill Park and bicycle parking is available.
By bus
A number of buses serve the park, for more details visit Traveline.
By train
Bracknell is well served with train services from London Waterloo, Reading and towns in the surrounding area.
To plan your journey, visit National Rail.
what3words
A what3words address refers to a 3 metre square location. Select the link or enter the 3 words into the free what3words app to find it:
Park management
Management of the grounds is a partnership between Bracknell Forest Council, Bracknell Town Council and South Hill Park Arts Centre. The area to the south of Ringmead is owned and managed by Bracknell Forest Council, while the northern area is managed by Bracknell Town Council. Both lakes are owned by Thames Water and act as balancing ponds for the town, by storing excess water during periods of heavy rainfall.
An updated version of the Ten Year Management and Maintenance Plan for South Hill Park was produced in September 2013 to reflect the completed restoration project. The plan sets out the vision, aims and objectives for the park and it identifies actions and priorities in its audience development plan and annual work plan.
South Hill Park won a Gold Award for the third year running in the Parks and Open Spaces category of Thames & Chilterns in Bloom in 2017.
A wide programme of events and activities take place in South Hill Park grounds throughout the year.
The park is also Bracknell's leading venue for large public events, such as the half marathon, The Big Day Out and music festivals.
Wildlife
South Hill Park has woodlands of birch, lime, oak and sweet chestnut. There are also wildflower meadows, a reedbed and 2 balancing ponds which are all home to an array of wildlife.
To look after the park, and keep it safe for people and animals, strictly no barbecues are allowed. This will help protect pets and wildlife from:
cuts from sharp metal from discarded disposable barbecues
burns from discarded barbecues
wildfires if the barbecue is not properly extinguished
Barbecues also cause damage if placed on grass or furniture.