Civic regalia means the formal robes, chains and badge of office which the Mayor can wear. The Mayor's robes, chains and badges of office are outward signs of the civic office.
Chains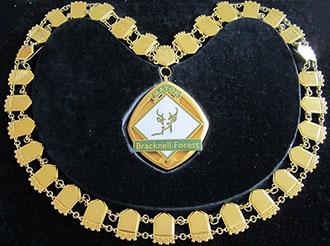 Chains of office are provided for the Mayor, the Deputy Mayor and the Mayoress or Consort.
The chain was originally donated to the borough by Marks and Spencer in 1999. The shields on the Mayor's chain which form the actual chain, are engraved with the names of the parishes within Bracknell Forest and the names of previous bearers of the office of Mayor.
The design of the main pendant was updated in 2010 by the late John Nike, OBE, to reflect the council's new logo.
Robes
The robes signify that the Mayor is representing several parties. Red represents the Queen, black represents Law, the fur represents the People.
The ceremonial robe was presented to the Borough in 2003 as a gift from the Meteorological Office.
Depending on the event (or the weather) it may not be appropriate for the Mayor to wear the full regalia.