Englemere Pond Nature Reserve covers an area of 27.6 hectares, 68.2 acres, and consists of a shallow acidic lake offering a wide range of habitats that are important for wildlife.
The site is extremely popular with dog-walkers, ramblers and nature lovers.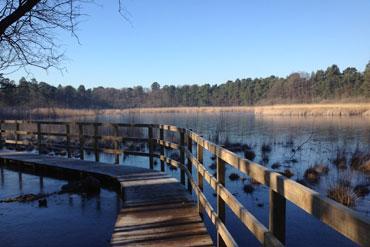 For much of its recorded history the site has been part of a great Royal Hunting Forest that surrounded Windsor Castle and today is still part of The Crown Estate.
Englemere Pond is featured on Great Places for Circular Walks.
Facilities
Englemere Pond has:
a site noticeboard containing general site and wildlife information and temporary notices
2 circular marked trails that start and end at the car park
a bench at the pond viewing platform where you can observe the waterfowl that visit the pond
sleeper bridges and boardwalks have been installed and surfacing has been provided in particularly wet areas of the trail
How to find Englemere Pond
By car
Located in Ascot in the parish of Winkfield, you can get to the park using Englemere car park, Swinley road, Winkfield, SL5 8BA.
Grid reference SU905685.
By foot
You can walk to the park from:
Swinley Road, along the London Road by the traffic lights at the junction with Fernbank Road
further along the London Road towards Ascot through a narrow gap beside a locked metal field gate
what3words
A what3words address refers to a 3 metre square location. Select the link or enter the 3 words into the free what3words app to find it:
Wildlife
The site is designated a Site of Special Scientific Interest (SSSI) and a Local Nature Reserve (LNR) for its important range of habitats and associated species. Open water and marshes are surrounded by commercial forest and heathland areas, each of which provide their own variety of plant species and a home for many birds, insects and animals.
The reed bed and shallow lake is important for many specialised birds and insects including grass snakes and the boggy areas are important for the strange and beautiful plant: the round-leaved sundew.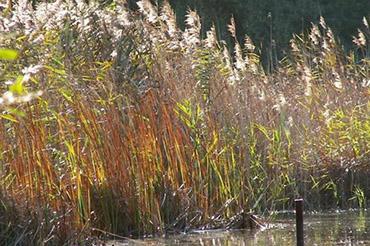 What to see
The warm days of summer bring out the brightly coloured dragonflies, which dart to and fro over the cotton grass and marshy areas. Fine summer evenings, too, are a good time to watch feeding sand-marlins and swallows swooping low over the water in order to catch flies, and at dusk hunting bats emerge from their roosts to feed.
Spring is when toads and palmate newts are spawning, and when the weather warms up. the water level in the pond rapidly drops, so rainfall is always helpful. The extensive reed bed around the pond is where, in warmer conditions, you may catch sight of a grass snake. The reed bed and shallow lake are important for many specialised birds and insects.
The woodland is predominantly scots pine, with patches of heather, including ling, bell heather and cross-leaved heath, in the forest clearings. Oak, mountain ash, willow and silver birch are also to be found here. The alder trees are a favourite haunt of wintering migrant birds such as siskins and redpolls which feed on the seeds.
Park management
Englemere Pond is managed under a licence agreement by Bracknell Forest Council.
The site is being enhanced as a Suitable Alternative Natural Greenspace in order to create an enjoyable natural environment for recreation, away from the Thames Basin Heath Special Protection Area.
The Scots pine woodland is managed as a timber crop by The Crown Estate. Oak, mountain ash, willow and silver birch are also found here. Alder trees are a favourite haunt of wintering migrant birds, such as siskins and redpolls who feed on the seeds.