A footbridge at Shepherd Meadows is currently closed for repairs. Find out more on our information page.
Shepherd Meadows and Sandhurst Memorial Park are neighbouring sites in the south of the town on the River Blackwater.
Shepherd Meadows consists of 40 hectares (100 acres) of wet meadows and woodlands that is important for its nature conservation.
Sandhurst Memorial Park is a 28 hectare (69 acre) site that is a premier location for recreation in the borough.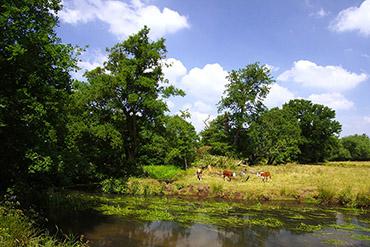 Shepherd Meadows is featured on Great Places for Circular Walks.
Facilities
Shepherd Meadows and Sandhurst Memorial Park have the following facilities and key features:
the Meadows and areas of the Park are part of the Blackwater Valley Site of Special Scientific Interest and have a high nature conservation value
a network of tarmac, hoggin and mown pathways allow good access throughout the sites
picnic benches
contact Hartley Wintney Angling Society for information about fishing permits along the Blackwater River
Located at the Memorial Park are:
Sandhurst Sports Club
Pistachios Café
a skate park with youth shelter
parish office and community hall
toilets
a children's play area and activity trail for youths
multi-use games area
tennis courts and basketball courts
football pitches and cricket square
How to get to Shepherd Meadows and Sandhurst Memorial Park
By car
The main car park to the Memorial Park is located off Yorktown Road (A321) GU47 9BJ.
A small car park can be used to access Shepherd Meadows from Marshall Way in GU47 0FJ.
The grid reference is SU848607.
Wheelchair users can gain access from the car park to the riverside along a tarmac path.
By foot
Pedestrians can gain access from:
the A321 past the car park
south of the river across the railway line
the A30 across the railway line
Sandhurst at various points to the western end of the site
what3words
A what3words address refers to a 3 metre square location. Select the link or enter the 3 words into the free what3words app to find it:
Park management
Bracknell Forest Council manages Shepherd Meadows as a Suitable Alternative Natural Greenspaces in order to create an enjoyable natural environment for recreation, away from the Thames Basin Heath Special Protection Area.
Sandhurst Town Council manages the memorial park, which is a premier location for recreation in the borough and holds a Green Flag Award.
Wildlife
Both sites are important for nature conservation, especially Shepherd Meadows as it's one of the last remaining undeveloped and agriculturally unimproved areas on the Blackwater River floodplain.
During spring and summer the meadows are covered by wildflowers including golden meadow buttercups, devil's bit scabious, purple meadow thistle and yellow birds-foot trefoil. The woodland is dominated by trees like oak, ash and alder coppice and includes spring displays of flowers like wood anemone and dog violets.
The meadows are home to over 600 species of insect, including orange tip butterflies, damsel and dragonflies, grasshoppers and bush crickets.
Bird life at Shepherd Meadows includes flocks of siskins, meadow pipits and thrushes in winter. In summer it is home to breeding kestrels, warblers, spotted flycatchers and woodpeckers. The River Blackwater and the feeder channels attract many waterfowl and wading birds. Rarely seen foxes and roe deer also inhabit the meadows.
Sandhurst Memorial Park also contains interesting nature areas, with a balancing pond, a meadow and a small piece of ancient woodland providing ideal habitats for wildlife.