Explore bluebell woodlands and wildflower meadows through a range of walks around The Cut river from Jock's Lane in Binfield to Newell Green in Warfield.
The Three Copses include:
Jock's Copse
Temple Copse
Tinker's Copse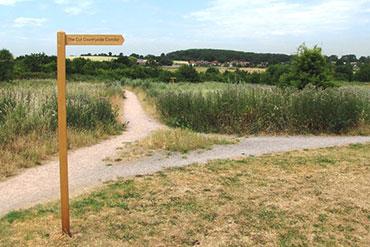 The sites are along The Cut river. All sites (with the exception of Temple Copse) are managed as Suitable Alternative Natural Greenspaces, which means they are being enhanced to provide an enjoyable natural environment for recreation, away from the Thames Basin Heath Special Protection.
These 3 small linked copses used to be set in an open rural farmland landscape. House building in the 1990s enclosed the woodland, which had been derelict and unmanaged for quite some time. An old air strip prior to 1930s ran between Jock's and Tinker's Copse. The name 'Jock' refers to a Scottish vagrant who frequented the copse in the early 1800s (per R Mosses).
The Three Copses are featured on Great Places for Circular Walks.
Facilities
The Three Copses are classified as Local Nature Reserves and Local Wildlife Sites and have surfaced paths which provide suitable conditions all year round for walking and cycling.
Temple Copse in an Ancient Woodland.
Jocks Lane Recreation Ground (which is a Bracknell Town Council site) includes:
refreshments
toilets
sports pitches
tennis courts
basketball courts
playground
How to get to the Three Copses
By car
Car parking is available a short distance away at Jocks Lane Recreation Ground car park, off B3018 Binfield Road, Bracknell, RG12 2BH.
what3words
A what3words address refers to a 3 metre square location. Select the link or enter the 3 words into the free what3words app to find it:
Park management
The copses are managed to provide a home for wildlife and to provide a safe area for members of the public to enjoy. The hazel is coppiced on rotation in order to encourage wildlife and the coppice is used as a sustainable product.
Wildlife
The woodland is mainly oak and hazel and there's a good range of woodland flora, bird and insect life.
There are very few conifers in the copses. The trees are mainly native, deciduous broad-leaved species. These support a greater variety of insects than coniferous or non-native species.
Wildlife you might spot includes:
wild service tree (sorbus torminalis)
bullfinch (pyrrhula pyrrula)
ragged robin (lychnis flos-cuculi)
badgers looking for worms and grubs at dusk - the badger run from Temple to Tinkers Copse provides a safe route for the badgers between the woods and a tunnel beneath Boltons Lane allows them to avoid the road
yellow primroses and carpets of bluebells in spring
squirrels and jays foraging for nuts in the autumn
all 3 species of woodpeckers and tits - you can often hear their 'laughing' call or their tapping as they search for grubs in the standing dead wood
wood mice
deer sometimes stray into the wood from the golf course and the neighbouring countryside