Put your bin out the night before
Make sure your bin is out by 6am on your collection day.
We suggest putting it out the night before.
In Bracknell Forest, green bins are for general waste - not for food, recycling or garden waste.
They are collected every 3 weeks.
Use our bin collection day finder to find what day your collection is.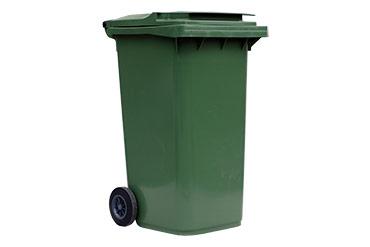 What goes in your general waste bin
What you can and cannot put in your bin

| 0 | Yes | No |
| --- | --- | --- |
| 1 | broken toys | any items you can recycle or compost |
| 2 | coffee pods (empty) | builders rubble or soil |
| 3 | disposable nappies (bagged) | car parts |
| 4 | food pouches (empty) | corrosive or hazardous materials such as pesticides, oil and paint |
| 5 | pet waste (bagged) | electrical, electronic equipment and batteries |
| 6 | polystyrene | food waste |
| 7 | plastics which are black - such as biscuit or chocolate box liners | fluorescent tubes and low energy light bulbs |
| 8 | plastic film | garden waste |
| 9 | any other general waste which you can't recycle or compost | hot ashes |
Make sure the lid is completely shut.
We will not collect any waste which is not in the bin. Don't leave any extra waste items or rubbish bags next to your bin.
To find out how to recycle or safely dispose of specific items, you can use the Re3cyclopedia search on our Reduce and recycle page.
Pet waste
Make sure that pet waste is bagged before you put it in your green bin and then keep the lid shut. This will reduce the risk of maggots and bad smells.
Nappies
Make sure that disposable nappies are bagged before you put them in your green bin and then keep the lid shut.
Consider tipping poo from disposable nappies into the toilet before you bag them. This is something that people who use reusable nappies already do. Think about whether you could go even further and switch to reusable nappies.
Report an issue
To report an issue, such as a missed bin, a broken bin, or a missing bin, visit our bin issues page.
Additional collection
If you missed a bin collection, you may want to request an additional bin collection. There is a charge of £32 for this service.
Flats
If you live in a flat, your general waste bin could be green or red.
For more information visit bin collection for flats.