Thames Basin Heaths Special Protection Area
Have you tried exploring our other local fantastic wild spaces? These are also great places for wildlife watching and dog walking.
Visiting alternative greenspaces this summer will help to protect wildlife in this Thames Basin Heaths Special Protection Area site.
Caesar's Camp is the remains of an Iron Age hillfort located in the coniferous forest to the south of Bracknell Town.
The hillfort which covers an area of about 17.2 acres, 7 hectares, and is surrounded by a mile-long ditch, is a remarkable piece of engineering having been constructed entirely by hand using basic tools.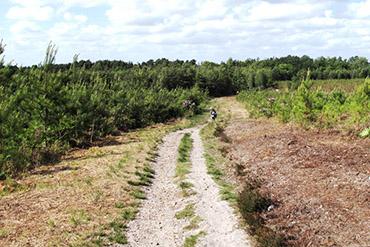 The obvious use of a hillfort is as a defensive location. However, it is possible that Caesar's Camp could have been a market place or a religious or political centre. Whilst little is known about how the buildings were arranged on the site, work on other similar sites has given us a good idea of what they may have looked like.
Iron Age houses consist of a circle of timber posts spaced 1 to 2m apart which supported rafters for the roof. The walls were made of wattle covered in daub, and were perhaps lime-washed. The roof was probably thatched. Square or rectangular structures built with 4 posts would have been used as animal pens, granaries and sheds.
There have been no major excavations of the hillfort, but English Heritage did conduct a geophysical survey and small scale sample excavations in 1995 which sadly revealed very little.
Facilities
Caesar's Camp has:
interpretation panels about Iron Age society
the remains of an Iron Age hillfort, built between 2500 and 2700 years ago, designated a Scheduled Monument
heathland habitat supporting rare birds
historic ride
Important information
This site is part of the Thames Basin Heaths Special Protection Area which means it has EU protection status.
The hillfort is legally protected, and it is an offence to use metal detectors upon it or damage it in any way.
Ground nesting birds are particularly sensitive to disturbance by dogs. In order to allow birds to raise their chicks, stick to the paths and keep dogs on leads during the nesting season which is March to September. This information is shown on the seasonal notices.
How to find Caesar's Camp
By car
The closest available parking is at The Look Out Discovery Centre car park, Nine Mile Ride, where a range of other facilities are available.
Caesar's Camp is then a 20 minute walk away through the forest.
what3words
A what3words address refers to a 3 metre square location. Select the link or enter the 3 words into the free what3words app to find it:
Park management
Over time the remnants of the hillfort, the banks and ditches, have suffered from erosion by natural and human actions. Management work began in 1994 to address this by thinning out the deciduous trees along the banks and ditches and sowing grass seed as this acts as a better barrier to erosion than other vegetation.
The conifer plantation in the interior of the hillfort was removed so that its full extent can be seen, and this was sown with heathland plants, which used to cover the site according to drawings made during military exercises in the late eighteenth century.
The work has helped to protect the archaeology of Caesar's Camp and has also provided a heathland habitat which has a high wildlife conservation value. Internationally protected species associated with Lowland Heath habitat include species the Nightjar, Woodlark and Dartford Warbler.
Work since this initial restoration has involved encouraging the growth of heather by the control of invasive pine and birch, and cutting and treating tree stumps growing on the ramparts.
Wildlife
This is heathland habitat supporting rare birds such as woodlarks and nightjars and the Dartford warbler. The nightjar migrates here from Africa to nest here in the spring and summer.
Other sites you may like
If you like historic sites you may also like: