Longhill Park is a 9.7 hectare (24 acre) site of hay meadow, woodland and playground, situated between Long Hill Road and Harvest Ride in Winkfield.
Longhill Park was formerly a refuse site that has since been reclaimed for wildlife and public recreation purposes. Today the site is popular for walking, particularly dog walkers and with families and children.
Longhill Park is featured on Great Places for Circular Walks.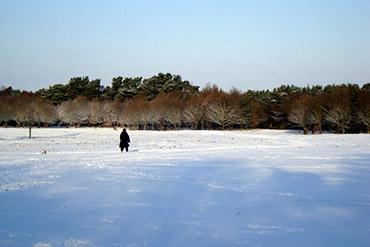 Facilities
The facilities and key features of Longhill Park are:
junior and toddler park play area
the largest BMX skate park in the borough
cycling is permitted along the track to the south west of the site
designated a Local Wildlife Site because of its valuable plants and animals
the site is generally flat and reasonably accessible for the mobility-impaired
How to get to Longhill Park
By car
The main car park for the site is accessed from Long Hill Road, Bracknell, RG12 9UD.
By foot
There are 4 pedestrian access paths to Longhill Park. They are at:
the junction of Long Hill Road and Harvest Ride
the northern point of Harvest Ride
the rear of Timline Green
the rear of Milman Close
what3words
A what3words address refers to a 3 metre square location. Select the link or enter the 3 words into the free what3words app to find it:
Park management
This site is part of the Longhill Park group of public open spaces currently undergoing enhancement works as a Suitable Alternative Natural Greenspace. This is to create an enjoyable natural environment for recreation, away from the Thames Basin Heath Special Protection Area.
Wildlife
Longhill Park is designated a Local Wildlife Site because of its valuable plants and animals.
The meadow area holds a mixture of wildflowers such as:
knapweed
ox-eye daisy
lady's smock
southern marsh orchid
The meadow is also home to common blue and small copper butterflies.
Typical mixed woodland borders the meadow area with the rides notably containing broad-leaved helleborine.
Sparrowhawks, goldcrest, wintering thrushes, summer warblers and bullfinch (a Bracknell Biodiversity Action Plan species) are to be found within the site as well as a translocated population of slow worms.
There is a notable and active badger set under the scrub around adjoining beswick gardens.