Library news
Our newsletter features our latest news, information about upcoming events and inspiration to help you find something to read.
Read our latest news
For adults
The story of the fictional life of Cashel Greville Ross as he seeks his fortune across continents in the 19th century.
As he travels the world as a soldier, a farmer, a felon, a writer, a father, a lover, he discovers who he truly is. This is the romance of life itself.
For children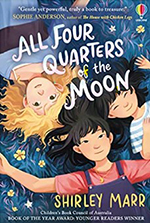 All four quarters of the moon by Shirley Marr
The night of the Mid-Autumn festival was the last time Peijing remembers her life being the same. Now, facing a new home, a new school and a new language, everything is different.
Peijing thinks everything is going to turn out okay - but cracks are starting to appear in the family.
Find your next story
Looking for inspiration about what to read next?
Our 'books of the month' are a great place to find your next read.
Explore our reading list